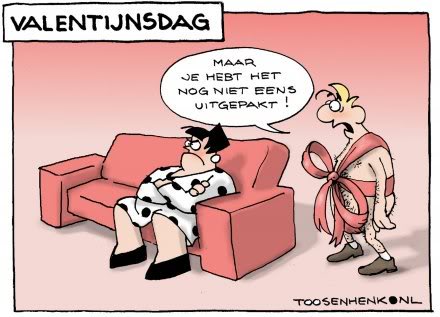 Creëer je eigen spa voor Valentijn
Wil jij je geliefde wel 🙂 op een originele manier met Valentijn verrassen maar wil je geen geld uitgeven? Geen nood, ik geef je een aantal tips om je eigen spa te creëren en hoe jij je partner een ontspanningsmassage kan geven.
Wat heb je nodig:
slaapkamer met een 2 persoonsbed;
2 grote handdoeken, 4 kleine handdoeken;
2 kussens;
ontspannen muziek;
massageolie;
(geur)kaarsen.
1. Voorbereiding:
 geef je slaapkamer eerst een opruimbeurt. Alle kleding weg en geen rommel op kastjes en vloer;
leg 1 grote handdoek en 1 kleine handdoek op bed; de andere handdoeken worden gebruikt om lichaamsdelen waar niet aan gewerkt wordt te bedekken;
1 kussen voor het  hoofd en 1 kussen voor onder de benen/voeten;
creëer sfeer door (geur)kaarsen en relaxte muziek;
zet de massageolie klaar;
de verwarming mag iets hoger, je partner mag het niet koud krijgen.
2. Ontspanning staat voorop:
dus mobieltjes op stil;
ook de tv en computer uit;
heb je kinderen zorg dat ze de deur uit zijn of bij een oppas.
3. Je bent goed voorbereid, het is nu tijd om je partner een ontspannende massage te geven:
Masseer je voor het eerst, dan geef ik je een aantal tips;
neem rustig de tijd, doe niks overhaast;
zorg altijd voor warme handen, wrijf je handen eerst tegen elkaar;
breng wat massage olie aan op je handen waarna je dit over het lichaam verdeeld;
begin met de rug, bedek dan de andere lichaamsdelen, anders kan je partner het koud krijgen;
 gebruik rustige, vloeiende en lange halen met beide handen, waarmee je de contouren van het lichaam volgt;
je hoeft slechts lichte druk te geven, vraag af en toe aan je partner of de druk goed is, zo niet, dan pas je de druk aan.
Butterfly massage:
beweeg je handen langs de zijkant van de ruggengraat richting de onderrug, eindig net boven de billen;
beweeg dan weer met je handen omhoog richting de nek, maar deze keer met je handen verder van de ruggengraat vandaan en meer richting de zijkant van het lichaam.
Veel massage plezier!
Wil je nog meer (massage)tips laat het mij weten.
Recommended
4.261 Comments